How to Choose Kitchen Cooktops
Consider ventilation, cost, personal preferences and fuel type when shopping for a cooktop for your kitchen. Explore new trends and the benefits of each type of kitchen cooktop.
For kitchens with the space and budget to accommodate them, a cooktop combined with a separate wall oven is a nice alternative to the standard all-in-one range. Not only is the oven easier to use because of its location high on the wall, it frees up the cabinet space directly below the cooktop, allowing for close storage of heavy pots and pans. But these benefits come at a price as cooktop-and-wall oven combos cost more than a single range.
Considerations When Choosing A Cooktop
What is your budget?
Where will the cooktop be in your kitchen design?
Where will the other appliances be in relation to the cooktop?
Do you currently have gas or electric?
How will you set up ventilation?
Shoppers can expect to pay $300 for a basic four-burner gas cooktop and up to $2,500 or more for a 36-inch induction or pro-style gas cooktop. Most cooktops will last up to 15 years.
"With cooktops, the size of the appliance will come down to the size of the cut-out the shopper has in their countertop," explains Jonathan Clinton, Kenmore product manager for Sears. With all countertops, but especially granite, it's wise to find an appliance that fits the available opening. Standard widths are 30 and 36 inches, but models can vary by as much as an inch.
Gas vs. Electric Cooktops
Instant heat and the ability to make immediate temperature changes are the leading perks for homeowners who favor gas over electric. It is often easier to visually gauge heat levels with gas as well. The grates for gas burners are virtually indestructible, and a variety of cookware can be used. Some homeowners might say they're simply drawn to the gourmet experience of cooking over a flame.
"What you have most often determines what you buy," explains Clinton. Shoppers who have a gas line hook-up in their kitchen likely will purchase a gas-powered cooktop. Those without a gas line are not likely to shell out the extra cash to run one for a new appliance unless they are undergoing a major kitchen remodel.
Cons: Gas cooktops come with more environmental concerns; are slightly more expensive to purchase and install; installing a new gas line if there isn't one currently can be expensive; not as easy to clean as electric cooktops
The ongoing evolution of burner controls has made it easier for at-home chefs to maximize their cooking skills whether they need a low simmer or a hot-hot sear. Dual- and tri-flame burners are a level up from the single burners and a really nice option to have for using big cookware.

Gas cooktops are also more readily retrofitted with a variety of accessories, such as built-in grill space, infrared griddles, and even functional cutting boards. Like many modern appliances, manufacturers have begun to implement Bluetooth-enabled functionality for safety and precision.
Smooth glass-top electric cooktops start at a low price point and are a mainstream option for kitchens that aren't outfitted with gas lines. The products are easy-to-clean and quicker to heat food than gas cooktops. With a sophisticated appearance, these cooktops complement many countertop designs. They tend to maintain low heat much better than gas cooktops.
Cons: Gas definitely has more "foodie" and chef associations; electric cooktops need a special outlet to offer enough power if not already in place; though easier to clean, abrasive cleaners can damage the surface
Trends in Electric Cooktops
Tri-ring elements in electric cooktops make it possible to use different sized cookware on the surface. Backlit LED knobs are a sleek aesthetic improvement while functional upgrades include smooth glide controls, melt mode and power boil elements.

Safety features continue to evolve for electric cooktops, aided in part by Bluetooth technology to control settings and lock the cooktop when not in use. Pan presence sensors are a feature that enables the burner to shut off if no pan is detected. Many products can be outfitted with downdraft venting to eliminate the need for vent hoods.
Energy-efficiency is a huge reason that induction cooktops are popular. Activated only by currents between the coils and the cookware, the products are considered safe because they quickly cool to the touch and operate with less heat loss. All of which leads to less chance of burns or fires. Another major perk is that they're very easy to keep clean. Manufacturers continue to adapt the induction technology and while they were once deemed very high-end, it is now a more affordable and mainstream option for homeowners.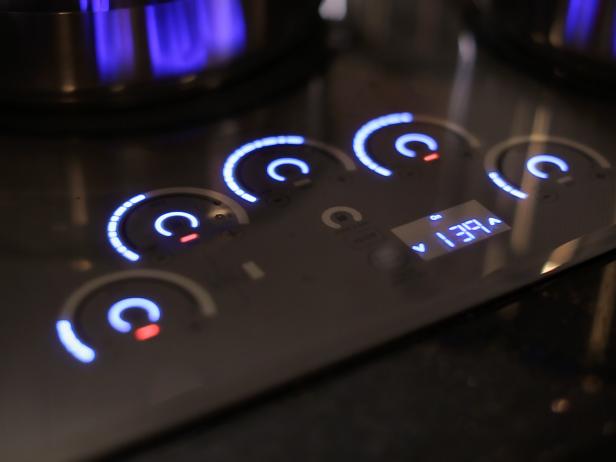 Touch-and-Swipe Cooking Controls
Induction cooking, which heats via electromagnetic field instead of through radiant heat, is all the rage because it's speedy and allows you masterful control over simmering. And now smartphone-inspired touch-and-swipe controls make the connection between you and your cooktop element even more intuitive — just drag your finger around the arc to adjust the heat for each zone as you cook. Shown is a GE Monogram® induction cooktop.
Cons: You made to swap out some of your cookware as not all pots and pans work with induction; induction stovetops tend to be more expensive than gas and electric; there is a learning curve involved
Trends in Induction Cooktops
Induction cooktops, while very powerful and capable of highly-controlled heat production, share power between area burners, which can result in one burner operating at 100%, while another maxes out at 60%. Shared burner technology and design continue to evolve to enhance performance for those occasions that you need to be boiling five pots of water at the same time.

We also really love that induction manufacturers are branching away from the black cooktop, offering lighter options such as this silvery-gray cooktop from GE Monogram. It looks great and offers less contrast when paired with a light countertop.
The least expensive cooktops will feature four (or two in slim models) basic gas or electric coil burners, Clinton says. For approximately $150, buyers can step up to the easier-to-clean glass-top electric or sealed-burner gas. Starting around the $600 mark, gas cooktops will feature seamless grates that combine to form a level work surface, making it possible to slide pots from one burner to another. On the high end of the spectrum are state-of-the-art induction burners, which heat up fast, use less energy and are easy to clean thanks to a smooth ceramic top. The downside is that these appliances start around $1,000.
Burner Quantity and Power
"As you step up in price, you step up in power and flexibility," explains Clinton. A little extra cash will buy shoppers more powerful and more precise burner options. Expect to shell out $100 to $200 for a high-powered gas or electric burner. Stepping up to a mid-range model will often provide a fifth burner, either an ultra-low warm-and-hold burner or a "bridge" burner that sits between two main burners, creating a larger heating surface.
Just because they're functional doesn't mean they can't be beautiful too. More and more homeowners are using the kitchen range hood as a unique statement piece in their kitchen remodel.
While gas-powered cooktops will always feature physical knobs, electric models can offer a little more variety. Up to the $1,000 mark, electric cooktops will feature knobs. Above that point, sleek digital controls begin to appear. Electronic touch-activated controls allow for one-touch operation, not to mention easier cleaning since there are no knobs to remove. All models, both gas and electric, position the controls in various places, either up front, in the middle, or off to one side. Which one works best for you is a matter of personal preference.
If the cooktop is being installed where there is no overhead exhaust, it will be necessary to purchase a model with its own downdraft system. These units will always be electric, not gas, and will be in the $1,500 range. While not as powerful as most overhead systems, the downdraft vents do help eliminate grease, odors and smoke.
Cooktops overall are designed more simply and with more technological integration than ever before. Expect to see more cooktops that offer a blend of gas/electric/induction technology to serve various needs. Fluid edge-to-edge grates will make it easier to slide cookware across a gas burner surface rather than letting each burner seem fragmented. Smooth glass cooktops become more durable and scratch resistant. Induction cooktops are headed in the direction of having no designated burner areas so that cookware can be positioned anywhere on the surface. Touch sensors replace knobs and Bluetooth connectivity is normalized to control precise temperature settings.
Consider space, budget and your cooking needs when picking one for your kitchen remodel